2016年先进材料科学与工程国际学术会议
地点:深圳
时间:2016-01-08 08:00:00 至 2016-01-10 18:00:00
参会报名
会议通知
会议日程
会议嘉宾
会议门票
用户留言
会议时间:2016-01-08 08:00:00至 2016-01-10 18:00:00结束

会议地点:深圳

会议规模:暂无
门票名称
单价
截止时间
数量
该会议售票已经结束,您可以查看其它相关会议。
会议通知
---
            AMSE2016
          2016 International Conference on Advanced Material
             Science and Engineering  
            2016年1月8日至10日 中国·深圳
Welcome to AMSE2016!
The International Conference on Advanced Material Science and Engineering [AMSE] is a leading annual conference of advanced material science and engineering for all researchers home and abroad. The coming conference, AMSE2016 will be held in Shenzhen, China, during January 8th-10th, 2016. AMSE2016 shows its sincere welcome to you to attend it.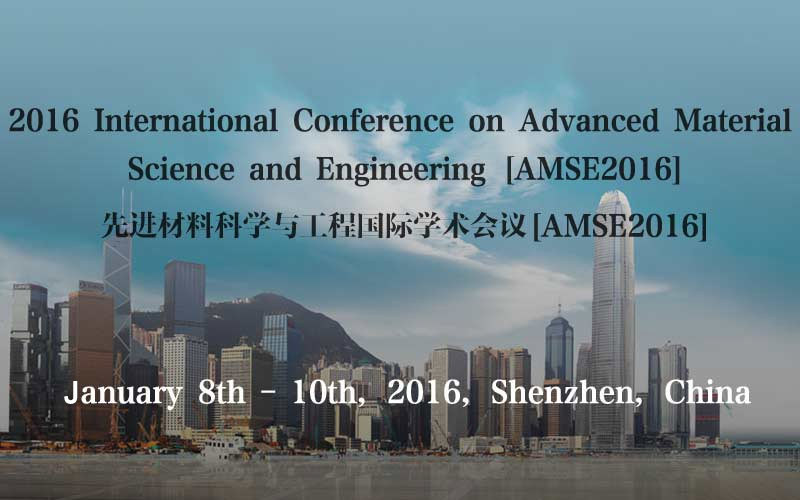 2016年先进材料科学与工程国际学术会议
With the rapid development of industry and information technology, researchers in all fields begin to discuss some new ideas connected with materials science and manufacturing technology. In this conference, authors can put their focus on materials sciences. AMSE2016 will provide a valuable opportunity for researchers, scholars and some scientists to exchange their ideas face to face together. The conference attracts participants in a diverse range of fields, including Materials Process Engineering, Material Physics and Chemistry and Emerging Areas of Materials Science. AMSE2016 is very special for its strong organization team, dependable reputation and wide sponsors all around the world. 
The multiple topics of interest include, but are not limited to: 
Materials Chemistry and Physics
Semiconductors and Superconductors
  Liquid Crystals and Crystalline Materials
  Nano Materials
  Metallic Materials
  Inorganic Nonmetallic Materials
  Macromolecular Material 
  Compound Material
  Polymers
Renewable Material and Energy
  Fossil and Non-Fossil Energy
  Nuclear Energy
  Biomaterial and Genetic Material
  Solar Cell Materials
  Electric Power Systems and Controls.
Processing and Testing for Advanced Materials
  Materials Identification and Characterization
  Structural Analysis
  Polymer Failure Analysis 
  Materials Performance
  Chemical Testing and Analysis
  Physical Properties Testing
  Electronic Materials and Gases Analysis
  Materials Treatment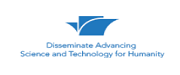 主办方:香港S&E研究中心
介绍:香港科学与工程研究中心拥有雄厚的科研实力,充满活力的学习传统和愉快的环境,积极参与融合信息技术的发展,为世界的技术视角提供了一流的学术空间。 科技代表着科学与工程研究中心,虽然该研究所还很年轻,但在科学和工程领域已经取得了很多成就。科学与工程研究中心是一个独立的非盈利研究和发展组织。科技大学的目的是使研究人员,工程师和学生的所有研究领域。科技公司将为各领域的所有课题提供经验分享和原创性研究的平台。
会议日程
---
Conference Schedule
January 8th, 2016
09:00-12:00 Conference Registration 
14:00-18:00 Conference Registration
Morning, January 9th, 2016
09:00-09:15 Open Ceremony 
09:15-10:00 Keynote Speech 
10:00-10:15 Coffee Break 
10:15-12:00 Oral Session 1 
12:00-13:00 Lunch
Afternoon, January 9th, 2016
14:00-15:30 Oral Session 2 
15:30-15:40 Coffee Break 
15:40-17:00 Oral Session 3
January 10th, 2016
09:30-11:00 Oral Session 4
11:00-11:30 The Conference Summary
11:30- Lunch and Free Time
会议嘉宾
---

Dr. Hadi Haeri
Sharif University of Technology, Islamic Republic of Iran
He became a member of the Iran's National Elites Foundation and worked as a Lecturer in the department of Mining engineering at Islamic Azad University, (from 2008 to 2013). For the time being, he is an Assistant Professor at the same university, supervised more than 5 graduate students.
He has taught: Undergraduate courses: Statics, Rock Mechanics, Strength of Materials, Geo-techniques, Support in Mines, Technical Language, General Mathematics, Topography, Excavation of Mines, Soil Mechanics, Engineering Geology, Foundation Engineering, Industrial Mapping, Engineering Economy, building materials, Graduate Courses: Advanced Rock Mechanics, Advanced Geo-techniques, Advanced Soil Mechanics, advanced Engineering Geology He has been a member of several editorial boards and has served as Editor and Reviewer.

Dr. Zongwei Xu
Tianjin University, Tianjin, China
Invited as a "Young Researcher" in the Third Asian Society for Precision Engineering and Nanotechnology (ASPEN2009) in November, Japan, 2009
Keynote Speech: National Seminar for Advanced Technologies and Application Progress of Scanning Electron Microscopy Spectroscopy (EDS), Electron Backscatter Diffraction (EBSD) and Focused Ion Beam (FIB), in September, Harbin, China, 2014
Invited Presentations: "Advanced technologies for micro/nano optics elements development" in the 10th China International Nanotechnology conference (2011), "Nano Mask Fabrication by Focused Ion Beam Milling (FIBM)" in ASPEN2009 (Japan), "Fabrication of Nanostructures using Focused Ion Beam Implantation" in nanoMan2008 (Singapore).
President, the Fourth National Conference on FIB Technology and Applications, Tianjin, 20-22 November, 2013.
Scientific Committee Member of International Symposium on Micro/Nano Mechanical Machining and Manufacturing, 2010, Guilin, China.
Technical Program Committee 2015 International Conference on Material Science and Environmental Engineering (MSEE 2015, Wuhai, China), the 2nd Annual International Conference on Material Science and Material Engineering (MSME2015, Chengdu, China)
Organizing Committee Member of the 1st ~3rd International Conference on Nanomanufacturing (Singapore 2008, China 2010, Japan 2012) and 1st CIRP Conference on Nanomanufacturing (China 2010).
Committee member of Chinese Electron Microscope Society, FIB Committee (2012 till now). 

PhD Sandra Paszkiewicz
West Pomeranian University of Technology, Szczecin, Poland
Reviewer in national/international journal: Polymers for Advanced Technologies, Polymer Composites, Journal of Applied Polymer Physics, Journal of Thermal Analysis and Calorimetry, Physica Status Solidi A: Applications and Materials Science, Physica Status Solidi B: Basis Solid State Physics, eXPRESS Polymer Letters, Polimery/Polymers
Participation in over 35 conferences, including ca. 16 international conferences, where the results were presented as oral presentations, among others: AFM2015 (Stony Brook, NY, USA), Carbon 2013 (Rio de Janerio, Brazil), CNPComp2013 (Dresden, Germany), FNMA (Poros, Greeece), Nanomeasure2013 (Warsaw, Poland), Frontiers in Polymer Science 2013 (Sitges, Spain), GrapHEL 2012 (Mykonos, Greece).

Dr. Dahai Ren    
Department of Precision Instrument, Tsinghua University, Beijing, China
Keynote Speech Title: Single Cells Patterning and the Detection Based on Quantum Dots.
Research Area:
BioMEMS/BioNEMS, Nano technology for the detection of biomolecules, MEMS/NEMS sensors and transducers.
Professor Ren is the member of the Academic Committee of Chinese Society for Optical Engineering, and the member of the Professional Committee of the Photoelectric Technology. He is the vice director of the Beijing Laboratory of Biomedical Detection Technology.  
Prof. Ren is a recipient of many awards including the Second prize for Advancement in National Science & Technology of China, the Second prize for Advancement in Science & Technology (National Education Ministry, China), the Second prize of Invention in Science & Technology (Beijing, China) and the Second prize for Advancement in Science & Technology (Beijing, China). In 2013, he participated in founding Beijing Laboratory of Biomedical Detection Technology and Instrument, the sole Beijing Laboratory in Tsinghua University.   
Prof. Ren serves on the Editorial Board of Journal of Machinery Manufacturing and Automation and the Editorial Board of Instrument Science. He has been the keynote speaker of nearly 10 academic conferences such as AnanlytiX and Chinese Young Scientist Forum in recent 3 years. Prof. Ren has published more than 90 peer‐reviewed papers on academic journals and conferences in recent years. Also he has 8 National Invention Patents authorized
Dr. Safia Akram
Department of Basic Sciences,Military College of Signals, National University of Sciences and Technology, Rawalpindi, Pakistan
Research Area:
Mathematical modeling in fluid dynamics. Peristaltic transport of Newtonian and Non-Newtonian Fluids under various geometries, assumptions and boundary conditions with magneto-hydro-dynamics, slip, no-slip, heat and mass transfer effects using Perturbation method, Adomian decomposition method, Numerical solution and exact solution techniques.
会议门票
---
The Registration Fees Include Admission to:
1.All the technical sessions 
2.The conference lunch 
3.One conference proceedings 
Regular Registration: RMB2600 or USD425 
Student Registration: RMB2400 or USD400 
Additional papers: RMB2200 or USD365 
Extra Page(More than 6 pages): RMB300 or USD50 
Attendees without Papers: RMB1200 or USD200 
PLEASE NOTE
The registration fee does not include:
• Accommodation
• Visa application fee
Registration Fee Confirmation
Completed registrations will be acknowledged by the Organizing Committee within seven (7) days after receiving your payment. 

扫一扫立即购票
安全·方便·快捷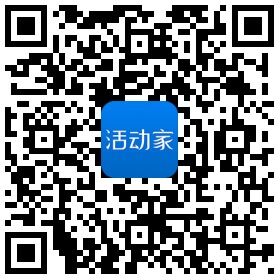 下载活动家app
随时随地查看国内商务会议
了解行业动态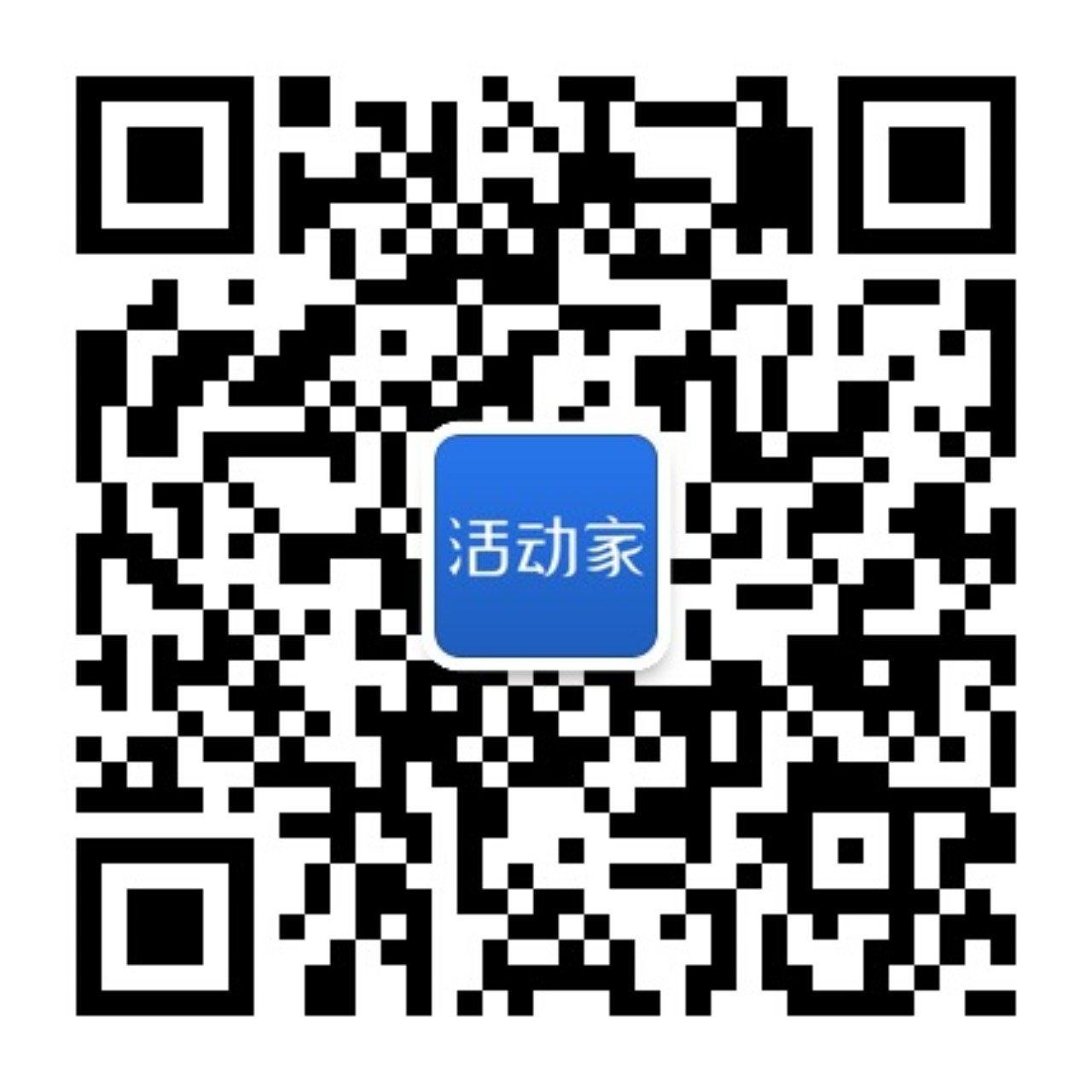 关注活动家公众号
了解更多会议资讯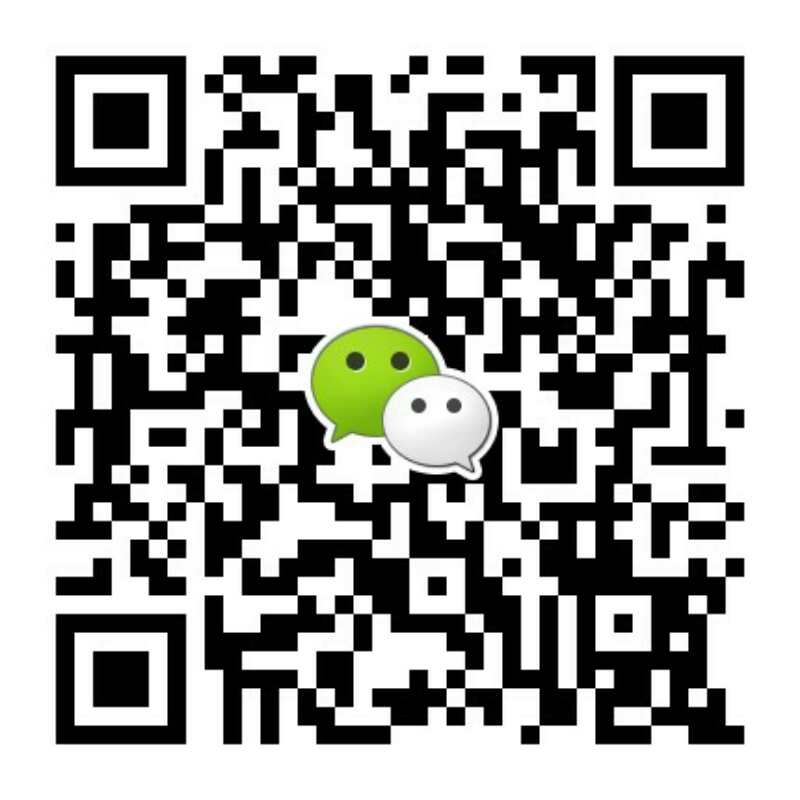 更多会议问题
请联系活动家客服